Welcome to Dalmatia
Welcome to Žaborić

Crystal clear water and the pleasant climate are among the most beautiful and important things on vacation. You can find that and more on the picturesque Adriatic coast.
Beautiful bays with pebble beaches and courteous people make a vacation in Žaborić a perfect experience. Anyone who was able to get to know all of this would love to come back again and again.
The smells and sounds of the Mediterranean are direct contact with nature. The Mediterranean climate is very mild. In July the average temperature is 28 ° C. There are almost 3000 hours of sunshine a year. The Maestral is a fair weather wind, which offers stable wind conditions in contrast to the northern Adriatic. From June the water temperatures reach 20 ° C, which is when the bathing season begins. Thanks to the coastal winds, it is never unbearably hot along the Adriatic.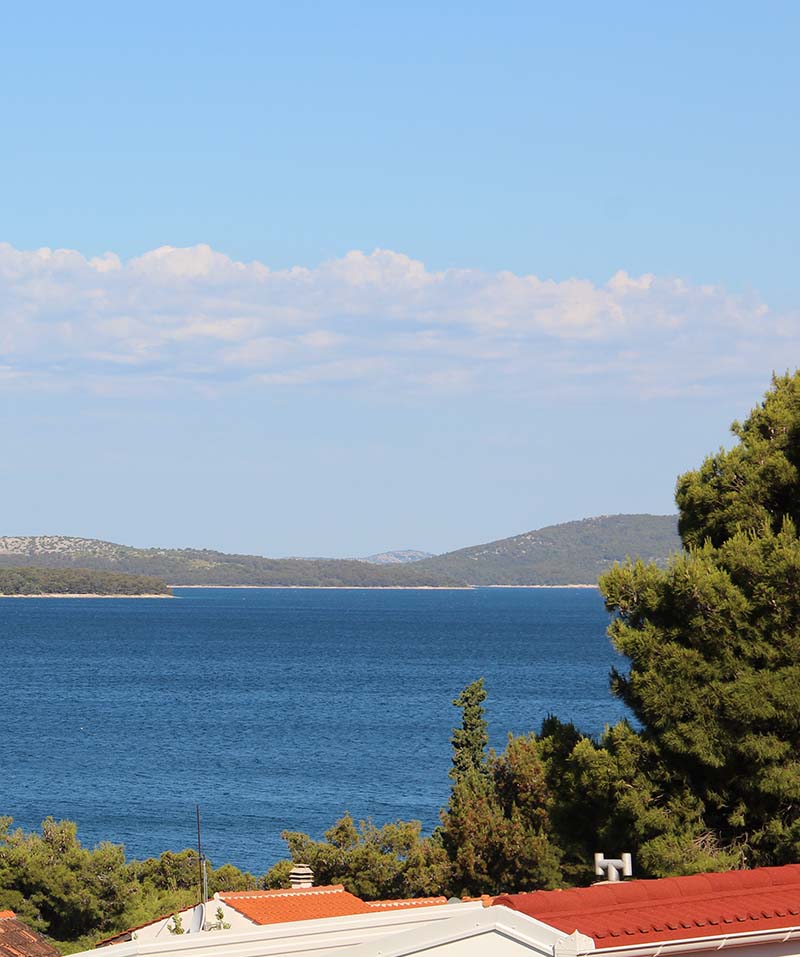 The next places north of Žaborić are Brodarica 4.5km and Šibenik 10km with large shops and shopping malls. and a market in the old town every day, 7 days from 7 a.m. to 2 p.m. Here you can only get food from the region.
367 / 5000 Übersetzungsergebnisse South of Žaborić we first reach Grebastiča 3km and Primošten 15km. Especially the small towns with romantic cafes and small restaurants should be visited. If you want to experience day trips to big cities further south, Trogir is 43km and Split 50km away. To the north the two smaller towns Vodice and Pirovac are 24km away.

Enjoy the calm after the storm.
If you want to escape the rough winter days in your country, you have the opportunity to live in a heated apartment. It gets cooler towards the end of September. The number of tourists is decreasing and the streets and cafes are becoming significantly emptier. More space and peace for everyone.
It rains now and then and the flora enjoys that. The temperatures in October still reach a pleasant 20-25 ° C. The restaurants slowly close their doors and silence reigns. You can still feel the Mediterranean climate and can take the approaching last hours of sunshine with you on the beach.

Sailing

Diving

Motorboat

Jet Ski